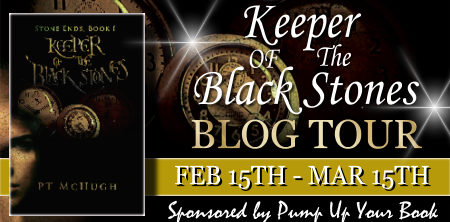 Publication:
February 26th, 2013
Page Count: 369
The Synopsis:

Awkward in his own skin, shy around girls and worried about anything and everything, Jason Evans is just like a million other teenage boys in high school, with one very large exception: he has been given a gift that allows him to jump through time. A set of stones has fallen into his lap that gives him access to any place - and any time - that he chooses. But along with that gift comes the responsibility of stopping the man who is using those very stones to travel through time and change history for his own purposes. A man who is now holding Jason's grandfather hostage, and threatening the world's very existence. Jumping through time with his best friend and body guard, Jason must enter the world of Medieval England, learn its customs, navigate unimaginable danger, and help Henry VII win the Battle of Bosworth, in the name of finding his grandfather, rescuing a beautiful girl from the clutches of a corrupt church, and destroying the one man who pledges to turn history inside out.
Jason! He was such a great character. At first, he was introduced as this shy, meek kind of guy. You know the kind. Quiet. Awkward. Perceptive. And suddenly, he morphs into this selfless, brave, and strong character. He stood up for what he believed in and wouldn't back down. His determination was so great to read about. He's not a character I've ever come across often in YA and this sweet--yet strong--protagonist made this book that much more original.
Speaking of original, there was time travel! Also, they happen to travel to one of my favorite time periods in history. It was fantastic. The historical accuracy of the novel made the book that much enjoyable for me and McHugh's take on time travel with these stones was interesting. There was plenty of swords and armor and battle and all that great stuff that comes along with time travel and epic adventures.
However, I would have preferred more of a flow to the reading--a consistency. Also, it was a little awkward here and there, but not in the good way. It was a little rough around the edges for me, but other than that, it was a great read.
Keeper's original take on time travel that brings readers to Medieval Europe makes for an epic adventure that had me turning pages as fast as I could. Being that I enjoy reading historical fiction of any kind, I enjoyed the book and can't wait to see what will happen next! Fans of time travel, sci-fi, and rich history may possibly enjoy this book.
About the Author: PT McHugh didn't start out as a storyteller. He was, however, born into a family of that encouraged imagination. He became a fan of history in school and then went to college to become a construction engineer, to build a world of straight lines, angles, and equations.

He was just as surprised as everyone else when he realized that he believed in magic, and might just know the secret of how to jump through time. Since then, he's been researching the possibility and learning everything he can about history. Just in case the opportunity arises.